A prestigious academic medical center in Rhode Island is seeking a leader in the Pediatric Neurology field to become its Division Chief of Pediatric Neurology. Join a division of five pediatric neurologists and additional neuro-trained APPs. Pediatric neurologists with training in movement disorders, neuromuscular disorders, autoimmune diseases, and neurocritical care would be particularly well-supported, but leaders of all subspecialty training will be welcome. The Divison Chief will be employed by the Physician Group with the whole of the Department of Pediatric Neurology and have academic appointment through affiliation with the university medical school.
Hospital Details:
• Affiliated with an adult and emergency hospital, a 719-bed acute care facility
• 63-bed facility
• Level 1 pediatric trauma center
• Catchment: All of Rhode Island and parts of Southeast Massachusetts
• Academic Affiliation
• Accredited stroke program
• Neurology Residency Program
• Managed by an experienced practice manager
• APP Support
• Infusion suite available
• 2-bed EMU with active plans to expand
• Marketing support available for program development
Division Chief of Pediatric Neurology Details:
• Opportunities to teach medical students, neurology residents, and pediatric residents
• Merit-based research support available
• Approximately 15-20% administrative time
This Rhode Island community combines the accessibility and friendliness of a small town with the culture and sophistication of a big city. With a thriving arts community, vibrant and diverse neighborhoods, outstanding hotels, a renowned restaurant scene, and so many things to do, this community is the perfect place to visit. The area has been recognized by national arts organizations and was recently the recipient of two awards from the National Endowment for the Arts. It has numerous public and private K-12 schooling options for physicians with families. The city was also in the top 100 places to live by U.S. News and World Reports.
I'm interested in this position
Position #2570-1
Specialty:

Neurology
Subspecialty:

Child Neurology, , Epilepsy, Movement Disorders, Multiple Sclerosis/Neuro-Immunology, , Neurohospitalist, Neuromuscular, Sleep, Stroke, EMG, EEG
Region: Northeast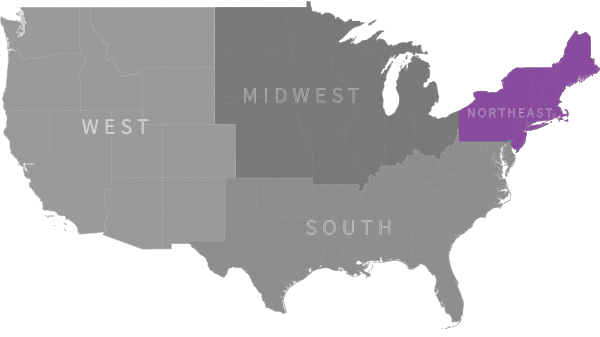 Ready to talk with our recruiting specialists?
Chat with us:
Use the Chat / Help Button below