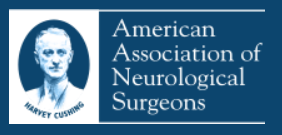 Aug 21, 2021 - Aug 25, 2021
Details:
August 8, 2021 Update:
The 2021 AANS has changed its conference delivery from a hybrid in-person & virtual conference to an all-virtual conference. There will not be a virtual exhibit hall, but please feel free to reach out to us if you would like to schedule an appointment to discuss your job search, current recruitment efforts, or possible future recruitment.
---
Meet our Neurosurgery Team in the AANS Exhibit Hall at booth 1008.
Sunday, Aug. 22 | 12:00 p.m. – 4:30 p.m.
Monday, Aug. 23 | 9:00 a.m. – 4:15 p.m.
Tuesday, Aug. 24 | 9:00 a.m. – 4:15 p.m.
Location:

Orange County Convention Center in Orlando, FL
The American Association of Neurological Surgeons promotes the highest quality of patient care and advances the specialty of neurological surgery.
Read more about the AANS and the Annual Scienfiic Meeting here.