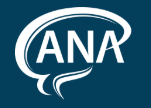 Oct 13, 2019 - Oct 15, 2019
Details:
Meet our Neurology Recruitment Specialist Rick at Table #2.
Sun., Oct. 13 | 11:00 a.m. - 5:00 p.m.
Mon., Oct. 14 | 10:30 a.m. - 6:30 p.m.
Tues., Oct. 15 | 10:00 a.m. - 2:00 p.m.
Location:

Marriott St. Louis Grand in St. Louis, MO
Scientific symposia will showcase cutting-edge basic science and new translational applications to care. Special Interest Group sessions and Interactive Lunch Workshops will spotlight advances across the full spectrum of neurologic subspecialties. And professional development sessions will include tips to advance your career goals, whether you are a neurology student or department chair.
We look forward to seeing you there and discussing job opportunties!
For more information or to register for the 2019 ANA, please click here.